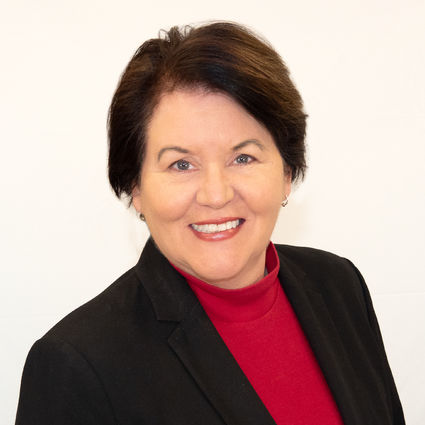 Jan O'Brien
Team Leader
A little about me
and why I love real estate
After proudly serving as a Captain & UH-60 Blackhawk pilot in the U.S. Army from 1984-92, I changed careers to become a real estate agent and haven't looked back since! During my 29+ year real estate career, I have served at all levels from sales associate, branch manager, team leader, corporate broker, general manager to franchise development and business coach. I am a licensed REALTOR in both Nevada (where I co-lead a team of Realtors) and Florida.
After 28 years in Las Vegas, I moved to the north Tampa area to be closer to my family and to build a second real estate team. I am the oldest of five children and have a sister in Wesley Chapel, FL and 3 siblings in Georgia. I am a graduate of the University of Georgia (Go Dawgs!) and happy to be back in the southeast again!
My true passion is to empower and educate others to discover their potential and reach their dreams and goals. To that end, I decided to go back into working directly with buyer and seller clients and put my extensive experience and knowledge of real estate sales, marketing and negotiation to work for those clients. Together with my team of real estate local area experts, we are here to serve all of your real estate needs
I co-founded Wandering But Not Lost (WBNL) Coaching in 2015, which is a real estate training and coaching company specializing in working with agent teams and brokers. I am the author or co-author of numerous real estate continuing education classes and online training programs. I also co-host the weekly Wandering But Not Lost Podcast: Where Real Estate and Reality Meet with my business partner Matt Emerson.
When I'm not working with clients, creating content or recording a video... I enjoy spending time with my family, getting up and getting outside to hike, bike, go to the beach or visit a local, state or national park!
Don't hesitate to call, text or email me with your questions or to chat about your real estate goals and dreams.
I look forward to connecting with you!

Jan O'Brien
702-858-9191
Listings you'll love
with the expert advice you deserve
Our clients are awesome
and here is what they are saying
"It was an absolute pleasure dealing with Jan. She was available whenever I called about the sale or potential issues with buyers or their agents. She is very knowledgeable about the OTOW community and their HOA rules etc. She helped organize and locate tradesman that were necessary to "fix" issues. I would highly recommend her services for others either buyers or sellers."
Kevin Murray
Clearwater, Fl
"Working with Jan was a delight, definitely the best Realtor I've ever worked with. She is competent, trustworthy, communicative, thorough, and just really knows her stuff. Even the buyer's Realtor I met spoke very highly of her!"
Siana Shapiro
Sold my Clearwater condo
"We moved from out of state and purchased our townhome sight unseen. We had to rely on Jan to be our eyes and ears for the purchase. She helped us narrow down the area we wanted to purchase our home in and then went to multiple locations to view properties for us. The first couple she looked out had some issues so she rightfully pushed us to keep looking. Then on another property she recommended that we did not overpay and to keep looking. Eventually we found the property that checked all of our boxes (price point , location, school district, multi level, lanai, low HoA, etc). Jan looked out for our interests throughout the entire process so we felt comfortable buying the property sight unseen. She never tried to push us into buying a property just to make a quick sale. Not only did she give us virtual tours by taking videos of the homes but she also looked around the neighborhoods to give us an overview of the area. She assisted us in negotiating a good offer so we made sure we had our offer accepted in this hot real estate market. After we went under contract Jan stayed on top of everything needed to ensure a smooth closing (dealing with the title company, inspectors, lenders, utilities, etc). Jan is easy to work with, honest, efficient and extremely fast in responding to communications. She is a consummate professional. We had both a challenging and unique task for her with our out of state move and she exceeded all of our expectations. If you need a fantastic realtor then look no further as Jan is the total package."
Brandon Basile
Purchased Home in Tampa
"Jan was such a fabulous agent to work with! She handled the sale of our home long distance and went above and beyond! Jan handled every little detail with professionalism and promptness - far exceeding our expectations of what a realtor should do! We are so very pleased we found Jan O'Brien and Celtic Realty!! Jan is our agent for life and has become a very special friend as well!"
Trish Deziell
Sold our villa in Dunedin
"The process of buying a home could be a stressful one, but having Jan as my realtor made the process smooth and successful. She kept me informed of each upcoming step and her many years of real estate experience was invaluable for sure. I highly recommend using Jan when you need an expert realtor!"
Loreen Francis
Purchased Condo - On Top of the World
"Jan was amazing. I live out of state and she handled everything for me including getting me contact numbers for all the services I needed. She always responded very quickly. She is knowledgeable and very helpful. I would totally recommend Jan. I live out of state and she handled everything for me including getting me contact numbers for all the services I needed. She always responded very quickly. She is knowledgeable and very helpful. I would totally recommend Jan."
Donna Lauth
Purchased Condo - On Top of the World
"I definitely did myself a huge favor when I asked Jan O'Brien with Celtic Realty to sell my condo. She was very helpful along the way and very precise of each step needed to be taken in listing and selling the property. I would definitely use her again and recommend her to anyone I know."
Tony Newman
Sold my condo in On Top of the World
"Jan was our primary contact, the lead agent with extensive knowledge and patience in working with us. Jan's excellent negotiation skill was a great asset in closing the deal. Cosmo was instrumental in marketing our property with realistic video and photography, showing our home in the most favorable light and captured its superb ambience. I highly recommend this team! they are the best!"
"Jan and her team really made selling smooth and easy for me. I have to say this team has strategies you will never hear from another agent. Cosmo's strategies to market my property got dozens of showings and 3 offers in 4 days, one from their grand open house (and it is grand!!!), one from Facebook, and one the traditional way. They know everything about photography, videos and social media marketing and even about how different lighting and fixtures can evoke certain emotions in buyers. They also do traditional marketing with full page mailers, I loved those the most. I feel like the videos of my property really highlighted my homes best features and the photos made it look bright and welcoming, the exact way I saw my home. Out of 3 offers, one was over asking price, but the appraisal came in low. Luckily, Having Jan O'Brien working on the negotiations helped me get an accepted offer with the buyer willing to pay over the appraisal value. I highly recommend interviewing this team for your next home sale, it'll feel like you're getting million dollar service the whole time."